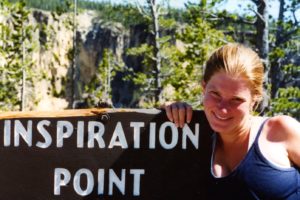 Thousands of people have comforted and supported us in our sorrow over losing Eve and we are truly grateful. As time has passed, we have realized how many lives she touched and how much she made a difference to those around her.
Eve embodied something from each of the quotations below—all of which have given us solace.
Eve had golden hair, a golden smile and a heart of gold.
Eve's life was not in vain.
Eve had many happy times and laughing times and her afterglow continues.
Eve is forever connected to nature, the universe and to Native Americans.
Eve's spirit is still alive.
Eve would not want us to grieve too long and be sad, but would want us to  remember how much she loved life and lived it to the fullest.
Some of the quotations that have comforted us in our loss of Eve
Nothing Gold Can Stay
" Nature's first green is gold
Her hardest hue to hold
Her early leaf's a flower;
But only so an hour.
Then leaf subsides to leaf.
So Eden sank to grief,
So dawn goes down to day.
Nothing gold can stay."
Robert Frost (1875-1965)
Not In Vain
" If I can stop one heart from breaking,
I shall not live in vain:
If I can ease one life the aching,
Or cool one pain,
Or help one fainting robin
Unto his nest again,
I shall not live in vain."
Emily Dickinson (1830-1886)
After Glow
" I'd like the memory of me
to be a happy one.
I'd like to leave an after glow
of smiles when life is done.
I'd like to leave an echo
whispering softly down the ways,
Of happy times and laughing times
and bright and sunny days.
I'd like the tears of those who grieve,
to dry before the sun
of happy memories
that I leave when life is done."
Author Unknown
Hopi Prayer

 "Do not stand at my grave and weep.
I am not there, I do not sleep.
I am a thousand winds that blow.
I am the diamond glints on snow.
I am the sunlight on the ripened grain.
I am the gentle autumn's rain."
When you awaken in the morning hush,
I am the swift uplifting rush
of quiet birds in circled flight.
I am the soft stars that shine at night.
Do not stand at my grave and cry.
I am not there.
I did not die.
My Spirit is still alive…
I'm Free
"Don't grieve for me, for now I'm free
I'm following the path God has laid you see.
I took His hand when I heard him call
I turned my back and left it all.
I could not stay another day
To laugh, to love, to work, to play.
Tasks left undone must stay that way
I found that peace at the close of day.
If my parting has left a void
Then fill it with remembered joy.
A friendship shared, a laugh, a kiss
Oh yes, these things I too will miss.
Be not burdened with times of sorrow
I wish you the sunshine of tomorrow.
My life's been full, I savored much
Good friends, good times, a loved one's touch.
Perhaps my time seemed all too brief
Don't lengthen it now with undue grief.
Lift up your hearts and peace to thee
God wanted me now; He set me free."
Author Unknown